Rezoning proposed for property north of Forvergreen Road and west of Jones Boulevard
Posted on: February 23, 2018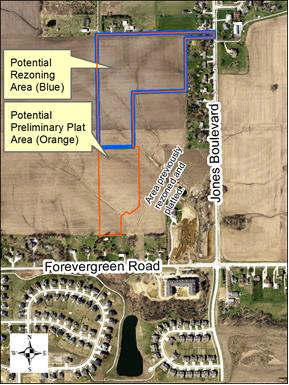 A Good Neighbor meeting was held on Feb. 22 for nearby property owners to comment on a plan to rezone property and create single-family lots on that rezoned property, located north of Forvergreen Road and west of Jones Boulevard.
This meeting was held to explain the potential subdivision plat and rezoning being considered by the owner/developer, and to gather any comments you may have regarding the proposal. No staff review has been done, nor have Planning Commission or City Council actions been taken, but the application may be made as early as March 1.
Notice was mailed to property owners within 200 feet of the proposed development.
If you have any questions or comments about this proposal please contact City Planner Dean Wheatley at dwheatley@northlibertyiowa.org or 329-626-5747.