Three easy ways to keep up with the City of North Liberty
Posted on: February 21, 2018
There's always a lot going on at the City of North Liberty, and it can be tough to stay informed. Here are three easy ways to keep up:
Sign up for email: Pick what you want to have delivered to your inbox: news digests, road closures and project updates, city council agendas and more. Sign up on our email newsletter page.
Follow us on Twitter: Timely news, updates and the occasional joke at Coralville's expense. (J/K, buddy!)
Like us on Facebook: Get your fill of news, updates and local stories in your news feed. And if you're really into us, you can tell Facebook you want to see our posts first.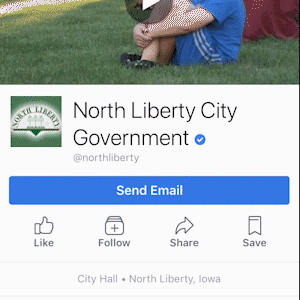 And don't forget you watch video of public meetings and more, get behind-the-scene glimpses and check out a calendar of community events. Looking for something else? Get in touch with the communications team at (319) 626-5726 or [email protected].