Beat the Bitter schedule announced
Posted on: November 21, 2017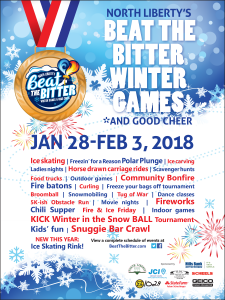 Forget hibernating and embrace winter with the passion of Norsemen. North Liberty's Beat the Bitter is set to return with a week full of activities January 28 through February 3, 2018, for fun on the bleakest days of the year. Registration for winter games and good cheer is available at beatthebitter.com.
Highlights include outdoor ice skating, a polar plunge, a family night with fireworks, a full slate of winter games and the second annual snuggie bar crawl. The festival offers more than 50 individual events, including special events at many North Liberty businesses, for a week full winter cheer for everyone.
The weeklong festival starts with Freezin' for a Reason Polar Plunge on Sunday, Jan. 28, hosted by the North Liberty Police Department to support Falco, their newest canine officer.
The following weekend kicks off Fire & Ice Friday, culminating in fireworks at 7 p.m. But the good cheer will start in the afternoon with horse-drawn carriage rides, ice carving, a meet-and-greet with literary characters, a community bonfire, fire baton performance, tug of war, learning to curl and more on tap. Friday events are free and open to the public.
Winter Games Saturday begins with the annual 5K-ish Obstacle Run at 9 a.m. and a variety of tournaments, including Kick Winter in the Snow Ball for kickball, the Freeze Your Bags Off for cornhole, as well as curling and broomball. Games require registration.
Saturday evening is given over to the second annual Snuggie Crawl, an evening out with friends and neighbors. Registration includes an embroidered Beat the Bitter Snuggie, a trolley to take crawlers to stops at BeerBurger, J&A Tap, Adelita's, Reds Alehouse, Rocky O'Brien's and Tin Roost, as well as access to specials, games and activities at each establishment. Tickets will sell out and are available at beatthebitter.com.
But the week is filled with affiliated offerings, including Norse-inspired gaming at Geek City Games, a sip-and-paint night at Big Picture Gallery & Studio, a beer-and-food pairing dinner at Reds Alehouse, snow volleyball at J&A Tap, special classes and a daddy-daughter prom with Debut Dance, a hearty chili dinner with the local Boy Scouts, fat tire bikes with Sugar Bottom Bikes, as well as special North Liberty Community Library programming. Visit beatthebitter.com/schedule for a full listing and details.
Beat the Bitter is organized by the North Liberty Community Betterment Group, a registered 501(c)(3) organization and made possible by the support of JCI Johnson County, Adam Schechinger State Farm, GEICO, Hills Bank and Trust Company, Scheels, BDL Transportation, Z102.9 and the City of North Liberty.