Learn how local law enforcement works at the Citizens Police Academy
Posted on: October 31, 2017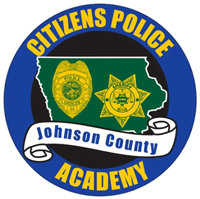 The North Liberty Police Department, in cooperation with the Johnson County Sheriff and the police departments of the University of Iowa, Coralville and Iowa City, are offering the Citizens Police Academy with the goal of promoting a better relationship between law enforcement and the community it serves through education and hands-on learning. Training includes department tours and ride-alongs, defensive tactics, evidence collection, drug investigation, and many other areas of enforcement and operations.
The academy costs $25 to cover materials and meets weekly on Monday evenings from 6:00 p.m. – 9:00 p.m. from Jan. 22 through April 23, 2018, most at the Johnson County Emergency Communications Center, 4529 Melrose Ave. in Iowa City.
Space is limited  and applications are due by 5 p.m. Friday, Jan. 15, 2018. For more information, visit the Citizens Police Academy page or contact Officer Mitch Seymour through e-mail or by phone at (319) 626-5724.