Show you're the spookiest (kookiest or cutest or…) in our costume contest
Posted on: October 26, 2017
Do you have the best Halloween costume? Prove it!
Beginning Friday, Oct. 27, residents are encouraged to enter North Liberty's Costume Contest on Facebook.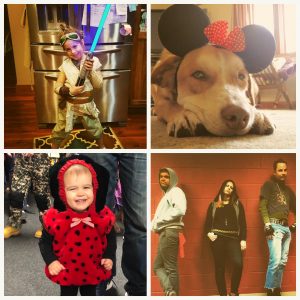 To enter:
LIKE the North Liberty city government Facebook page
Post a photo of you or a member of your family in costume on your personal or business Facebook timeline (make sure your post is set for public viewing) and include #NLHaunts before midnight on Tuesday, Oct. 31, to be included. Groups, duos, pets, children and adults are all invited to participate.
Submissions tagged with #NLHaunts will be pulled into a Facebook album hosted on the North Liberty city government page for voting the morning of Wednesday, Nov. 1. The winner of Best Costume will be the photo that receives the most LIKES in that album by 9 a.m. on Thursday, Nov. 2. The winner will be notified via Facebook and be awarded a $100 gift card to the North Liberty Recreation Center, to be used towards membership or program fees.
The City of North Liberty reserves the right to not include any photo deemed inappropriate from the voting album. Only photos shared with the hashtag on Facebook will be considered. If more than one person is in the winning photo, the $100 gift card can be split between them. Gift card may not be redeemed for cash.