Inaugural Liberty Fest parade route and closures
Posted on: October 11, 2017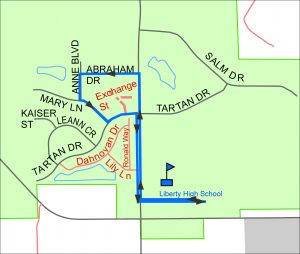 Next week, the Liberty High School community will celebrate Liberty Fest, the school's version of a Homecoming Week. The school's inaugural Liberty Fest Liberty Fest Parade, scheduled for 5:45 to 6:45 p.m. on Tuesday, Oct. 17, 2017, will require the closure of several streets near Liberty High School for the route.
The following roads will be closed during the parade:
North Liberty Road from Dubuque Street to the north to Abraham Drive
Abraham Drive from North Liberty Road to the west to Anne Boulevard.
Anne Boulevard from Abraham Drive to the south to Mary Lane.
Mary Lane to the southeast from Anne Boulevard to Tartan Drive.
Tartan Drive to the east from Mary Lane to North Liberty Road.
The map at left shows the route, which starts at Liberty High School and exits onto North Liberty Road where the route heads north. At Abraham Drive, the route turns west following the road to Anne Boulevard, where it goes south to Mary Lane, which it follows to Tartan Drive where it heads east to North Liberty Road, turns south and returns to the Liberty High School campus.