How I learned to love the compost bin
Posted on: October 9, 2017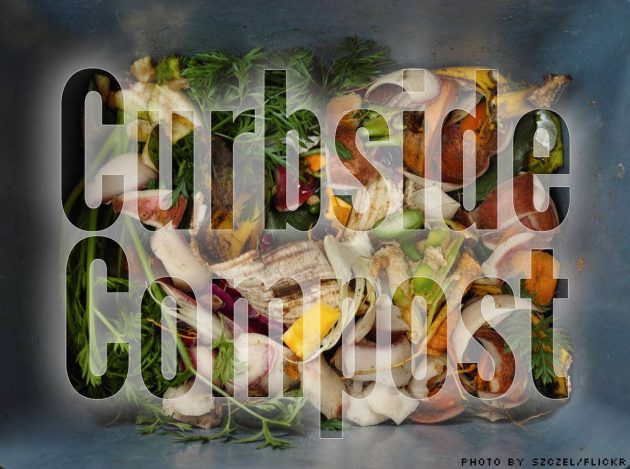 By Brigette Marshall, composter
It's important to me that I lower my family's carbon footprint and keep things out of the landfill, so I'm glad I live in a city that provides environmentally-focused programs. I signed up to participate in North Liberty's curbside composting program this past June.
Signing up was so easy. I registered and paid my deposit at city hall, and the red bin was delivered right to my door. The compost bins use yard waste bags, which are available at Fareway and other stores throughout town.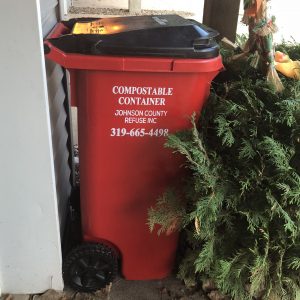 North Liberty lets you compost a huge variety of items, and when you sign up you are provided with a list of what they accept. I keep this list on my refrigerator for reference. When I'm cooking, I set aside a bowl on the counter for my food scraps, like eggshells and vegetable rinds. I refer back to the list a lot when I'm cooking to make sure I'm composting the right items. Every evening, when we're done eating, I take the scraps out to the bin. On Tuesday night I wheel the bin out to the curb along with our trash and recycling.
Some people use an indoor composting bin with a charcoal filter that you can leave on your counter top and collect food scraps in for a few days until you're ready to take it outside. I don't do that anymore because I find it hard to clean but it's a solution that works for a lot of people. Others will freeze food scraps until collection day to eliminate smell issues, but I haven't tried that approach yet.
Composting is satisfying because you can directly see how much waste you're keeping out of your landfill, and you save money on garbage tags. However, it does have its challenges, though I've found that none of them are insurmountable. I started keeping the bin in my garage, but quickly discovered how fast the decomposing food smell can overtake your garage and how many flies you can have swarming your cars. Definitely make sure to keep your bin outside.
I also started not taking the bin out every week because it's a pretty big bin and my family of three couldn't fill it weekly. However, more than a week is way too long to keep rotting food around your house, especially since North Liberty lets you compost meat. I now make sure to take the bin out every week even if it's not full, and am going to explore splitting the bin with a neighbor so that we can fill it up faster.
Brigette lives in North Liberty with her husband Brian, energetic daughter Kate and their two cats, Penny and Olive. Have a story to share? Drop us a line.