Trail connections planned for 2018
Posted on: September 25, 2017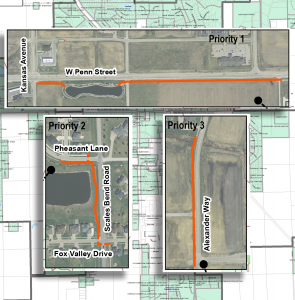 This fiscal year, the city will extend its 19-mile existing trail network by completing three connecting trail segments as part of the city council's priority to increase North Liberty's trail connectivity.
The trail projects in the current fiscal year, the top three priorities, include:
Penn Street: approximately half mile on the south side of the the road from Kansas Avenue to just east of Alexander Way.
Scales Bend Road: approximately 950 feet connecting existing trail segments along Pheasant Lane, the west side of Scales Bend Road and Fox Run Drive.
Alexander Way: approximately 1,000 feet connecting existing trail segments on the road's west side between 240th Street and Lininger Lane.
Design will occur this fall and go out for bid in late December, with a contract being awarded in January. Final completion of these segments is scheduled for the summer of 2018.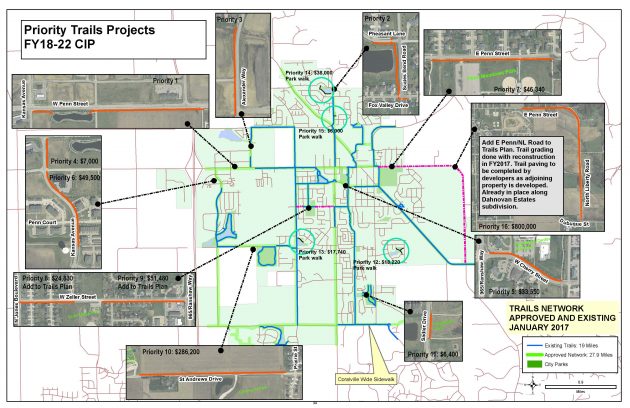 In all, the city has identified and prioritized 16 segments for completion in the next five fiscal years, increasing connectivity and the total miles of trails to 27.9 miles, much of it maintained by city staff. Additional trail is added as part of road reconstruction, such as along Ranshaw Way (Highway 965) and Kansas Avenue, and during development, such as along North Liberty Road.
Additional projects the city plans to undertake in the next calendar year will also include trail components, including Ranshaw Way (Highway 965) between Penn to Zeller streets and Kansas Avenue between Forevergreen Road and St. Andrews Drive. The coming Iowa Department of Transportation-led projects on Forevergreen Road, including the overpass and local road paving, will also include trail and sidewalk connections.