Platz appointed as North Liberty's first full-time fire chief
Posted on: September 1, 2017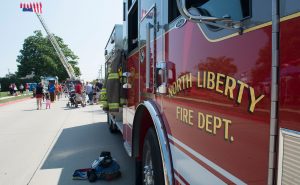 Brian Platz, currently the deputy fire chief in Iowa City, has been appointed North Liberty's first full-time fire chief. His appointment will go before the City Council on Sept. 12, with his tenure scheduled to begin on Nov. 6, 2017.
"Brian will be an excellent addition to our management team and will set the standard as our first full-time chief. His experience and technical skills, accompanied by his personality and character, will be a great benefit to our city," said City Administrator Ryan Heiar. "We're excited to have him on board."
Platz has served in the Iowa City Fire Department for 24 years. As deputy fire chief, Platz has been responsible for coordinating and directing emergency operations, maintaining facilities, managing special projects and serving as the department's accreditation manager.
Platz holds a Master of Science degree from Grand Canyon University and graduated from the National Fire Academy's Executive Fire Officers program. He received his Chief Fire Officer designation from the Centers for Public Safety Excellence's Commission on Professional Credentialing and holds certificates as a fire fighter, fire inspector, fire instructor, fire officer, emergency medical technician, aerial operator, driver operator and hazardous materials technician.
Platz replaces Eric Vandewater, who served as the city's part-time chief from 2005 to 2016, and Bill Schmooke, the current interim chief who will continue to serve as assistant chief.
North Liberty's fire department is a volunteer force. At the end of 2016, a study of the department recommended hiring a full-time chief and considering other changes. Last year the department had 1,137 calls for service, including fires, hazardous conditions and medical emergencies.