Community members gets active on Sneakers and Spokes
Posted on: July 13, 2017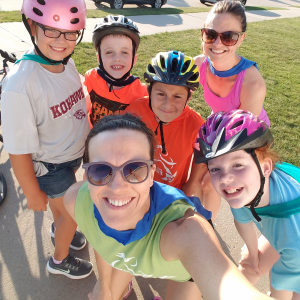 If you see a group of kids riding bikes around town this summer, wearing superhero capes and followed by a 30-something runner trying to keep up in a cape of her own, give them a honk or a wave of support. You'll be saying hi to North Liberty resident Kelly Sittig and a handful of kids from her neighborhood who have turned a fundraiser into a weekly opportunity to get active and enjoy being out and about around town.
"When I was a kid, I often rode my bike along with my dad during his daily runs," Sittig explains on her website. "Now, my kids (and my parents!) often join me on their bikes while I put in a few miles. My favorite runs are those that include a couple young (or young-at-heart) biking buddies alongside me for company."
So, instead of training for a race this summer, Sittig has encouraged her two kids, 12-year-old Addy and 8-year-old Max, her neighborhood kids — and anyone else who is up for it — to hop on their bikes or lace up their shoes and join her while she runs to raise funds for Girls on the Run of Eastern Iowa, an organization whose mission includes inspiring girls to be joyful, healthy and confident.
But for Sittig, what started as a fundraising initiative has turned into a weekly group run/ride that feels just as much about community as anything else.
"I can't believe how much the kids and parents in my neighborhood and around town have embraced the run/rides," Sittig said. "I have met fellow North Libertarians I wouldn't have otherwise known, and kids and parents both are often checking in to see when the next opportunity is to hit the pavement as a group."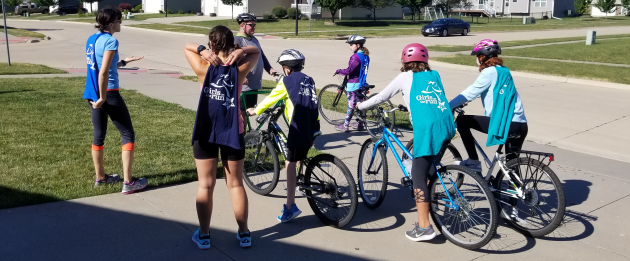 Sittig has tried to make the runs/rides extra fun for those who tag along with her. Kids who ride at least once get a Girls on the Run T-shirt. Wearing superhero capes made out of old GOTR shirts has also become standard for the group. Music often plays from a bluetooth speaker in her daughter's bike basket, and popsicles are abundant at the end of runs.
Sittig says she's also had fun developing new runner- and bike-friendly routes around town. The group usually does 3 to 5 miles. "We are so lucky to live in a walkable and bikeable community. This has been a fun way to explore and even introduce people to nooks and crannies of the town they might not have known existed."
So far, Sittig's largest group has been 13, with ages ranging from as young as 4 to as old as 70. She hopes the group will continue to grow and include new people.
"We've got plenty of superhero capes," Sittig says. "I would love to see the sidewalks bursting with superhero runners and riders."
Her fundraiser, um, runs through Aug. 15, but Sittig expects that the weekly runs/rides will continue beyond that. "It's been too fun to let it stop,"
Photos and run/ride stats, as well as details about the fundraiser, are available at http://bit.ly/sneakers-and-spokes. You can also follow the efforts on Facebook and Instagram.