Updated: Coralville man reported missing
Posted on: June 6, 2017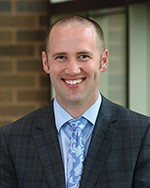 Update: Michael Graham has been located.
On June 5, 2017, the North Liberty Police Department received a missing person report. According to family members, Michael David Graham, age 37 of Coralville, last known location was at 7 Hawkeye Drive in North Liberty.  He drives a black four door 2016 Volkswagen Jetta, bearing Iowa license plate ELL 592.
Graham is a white male, with brown hair, brown eyes, standing 5 feet 7 inches tall and weighing approximately 165 pounds.
Family members have recently received text messages from Graham's phone number. At this time, his location is still unknown and the circumstances of his disappearance cannot be confirmed.
This department continues to follow up on several tips and leads to locate Mr. Graham.
Anyone with information about Graham's whereabouts is asked to contact the Johnson County Communications Center at 319-356-6800, or the Iowa Missing Person Clearinghouse at 1-800-346-5507.